South Pole via Kansas Glacier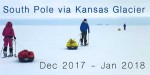 #3:

And so we begin
Published at
05:13

With weather looking good in three locations - Union Glacier, Thiels Corner refuel and our drop off point - we took off around 9am, leaving the alluring comforts of UG camp.

The Twin Otter flight took around 4 hours and the last 45 minutes were the most spectacular as we flew down the Reedy Glacier, the route I took last year, finishing with a clear view up the Kansas Glacier that we will begin in a few days.

We landed, braced ourselves for the 25kn winds outside, bid adieu to the pilots and wasted no time hitching our sleds and climbing slowly out from the ice shelf, heading for the mountains.

The wind held all day and we are now camped, tents buffeting under a big cloudy sky, with 10km to our credit, less than 24 hours after landing in Antarctica. Everyone chuffed.

Eric



Photos of the Kansas Glacier, a good surface under a brooding sky and Jade and Paul resplendent in the tie new Mont Equipment down shorts and skirt, useful in todays wind.
Name:

Camp 1

Elevation:

610

m

Latitude:

85

°

14

'

22

"

South

Longitude:

139

°

38

'

10

"

West