South Pole via Kansas Glacier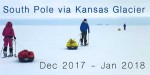 #6:

On the Reedy
Published at
06:20

A full nights sleep finally came since switching our time zone. But 6am comes around all too fast and my alarm of haptic windchimes placed under my down jacket pillow brings me into a tented world.

Today we covered 16.6km and gained over 150m in elevation. After slogging up onto the Reedy glacier we changed to crampons, the blue ice being too hard and slippery for our skis, and crunched our way across to some snowfields where we changed back to skis. The fastest surface is white ice on which skinned skis find grip and the sleds rumble effortlessly.

A steep pinch took us to a flat snowy camp with a spectacular southerly view of the Horlick Mountains through which the Reedy flows.

At the moment my Hilleberg tent is abuzz with stoves and three gents attending to diary, food and blog. Jade and Paul?s tent is likely similar, she is posting daily on Instagram while Paul tends the stove. She?s also doing a diary cam every few days, with dad plugged in to earphones and our tent out of earshot. Understandably she doesn?t like an audience for those personal recordings.

Tomorrow we will enter the Kansas Glacier.

Eric

Pics of Jade and Paul skiing up the Reedy Glacier, team (Jade, Paul, Ming and Heath) negotiating a patchwork of blue ice and snow and Ming D?Arcy our hardworking cameraman.


Name:

Camp 4

Elevation:

866

m

Latitude:

85

°

32

'

19

"

South

Longitude:

135

°

7

'

8

"

West